Topic: www.biomatrixsolutions.co.za
Our LATEST CCTV special for XMAS: piece of mind whilst on holiday." For HOME or OFFICE"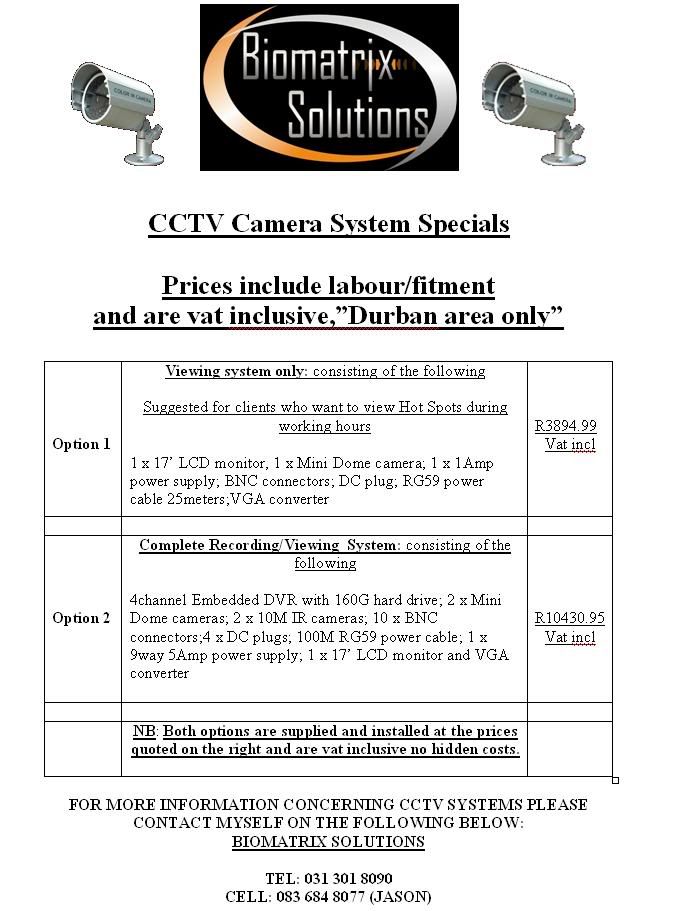 CCTV,Access Control,Time and Attendance, Finger Print Readers,Covert/Spy cameras/sunglasses we sell/instal all security equiptment for business/homes/factorys,etc,your system can be viewed remotely via internet anywhere/anytime"optional extra".You can design your own system to view or record,customer choice.We do from homes to industrial factories.
PS: Did you know?
By installing CCTV on your premises your monthly insurance premium could drop drastically.
Contact :
Jason : 031 301 8090
Email : jason@biomatrixsolutions.co.za
Last edited by Silent Knight (2009-11-18 10:38:05)
7AGE 6SPD: 2B1 Built & Mapped by Autotrix "Best 1/4mile time 14.2sec @ Mtuba (MSA EVENT) "
Don't INJURE what you can't KILL!!!
Update : 5 May 2013 14.2@161kmph (achieved time with car having a miss fire issue)
What did the 1
V-tec
supporter say to the other
V-tec
supporter?
NB:Remember!!!
If the 20vs 1st off the line we'll say he
JUMPED THE V-TEC!
but if the VTEC's 1st off the line we'll say he
OUT LAUNCHED THE 20V!
sweeeeeet!!!
we cant lose this way.......
(^_^)