Topic: 2005 RunX RSi (facelift) SOLD
The time has come to let go of my RunX.
This has been a Very difficult decision. Why change my most reliable vehicle which is also the cheapest to maintain?
2005 RunX Rsi
181 000kms (just been serviced)
R125 000
Car is very neat. New tyres fitted about 5000kms ago (michellin)
Leather is in excellent condition.
Full Viper exhaust and branch with mandrel bends
Motorcade CAI (stock intake system will be provided)
Eibach 30mm lowering springs
Short shifter
Hondata intake manifold gasket fitted
Smash and grab tint
The car does have scratches on the rear left door.
Has been serviced every 10 000kms instead of the manufacturer specified 15 000km interval
I've had it for 5 years and of that my wife has used it as her daily for the last 4 years
Service cost = R240 for castrol magnatec oil + R45 for oil filter. Plugs are changed every 90 000kms (i changed them last at 170 000kms)
It has the CAI so no filter change needed. Just a rinse.
Contact Nishan: 084 777 0753
nishan@vodamail.co.za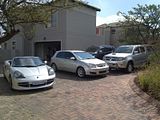 Last edited by Die$eL (2014-02-07 15:55:55)
Its not your top speed that counts but how quick u get to it...
05 - XRSi - 118WKW (Reef) - 15.7 @ Tarlton - 3.12.2010
01 - MR2 Turbo - 253KW ATF (Reef) - 14.4 @ Tarlton - 18.11.2011 - new time TBC
06 - Tuna 4x4