Topic: Re: 3sge Red Top Beams in Bubble: Updated
Hi all,
After 3 months of work and 2 months of road driving, Car is 90% complete in my mind. Only now needs, walbro pump, fuel pressure regulator, and bigger battery.
Anyway, official stats at Mace Dino came out to 145kw on the wheels, so works out 155 - 160kw on engine or crank if I am right?
So not to bad figures for stil some parts needed and still has to go for one more dino. But will wait till I have the pump etc. My money playing hide and seek now...
But with happy news, took it to killarney yesterday for a 1/4 mile run, and I am sure you are dying to know how it turned out.
So on with the run and some pics of the afterwards project where engine looks bit nicer now. Still needs a clean and some more cosmetics to come.
--------------------------------------------------
1st run: Took on Neo VVL Sentra (165kw) Not sure if that one was making the 165kw. He still had to dino car.
anyway again (some time later):
1st gear: pulled away at 3000 rpm. spinned immidiatly to 8600 - 8800 rpm. Tried to controll spin but a bit uselless, spinned more than Neo, but managed some how to pull away about a 1 and half car lenght at the end of 1st.
2nd gear: Spinned to 8600 rpm again. Neo caught up to nose length, and stayed there.
3rd gear: quick spin and pulled away until Neo was at my door along side me(The forse was with me
). at end of 3rd was doing 170 km/h at +- 8100 rpm.
4th gear: Just before the line pulled 4th gear and pulled a bit away again(But really not much). Neo stayed in 3rd gear while, think he was at end of my door, crossing line at about +-185km/h. think I only did 500rpm in 4th. But that is my speedo reading and not true speed.
But anyhow track was very slipery and in evening with 2 bar tyres I manged on first run 15.1 and VVL 15.2 time I think. Second run time was better.
2nd Run:
Another Sentra. Stock motor But tuned (think and guesing was pushing +- 135kw.)
Anyhow before run could see she deflated her tires to about 1.2 - 1.4 bar for more traction. VERY SLIPERY.
I didn't have a pump so kept with my 2 bar, maybe 2.1 bar nitrogen tires.
the run:
1st: gear: Seemed she pulled before green light or had very good reaction, but non the less with the tires managed to pull me in first by almost this time 1 and half car length. I meanwhile spinned this time bit les, but still crazy. Car was hopping this time to try and get traction.
2nd gear: I spinned again and she pulled little bit but, I started to catch at end off 2nd gear quite a bit.
3rd gear: Really started to catch up.
4th: Again catched up. She still in 3rd, but unfortunately crossed the line before me. But according to the time I dit a 14.7 and she did a 14.9. Think she did maybe pull before green light, or they work it out with reacion time. Not to sure. But one thing is that deflating tires helps ones cause massively! They said I could gain +- 1 sec by deflating tires. Well she launched and hardly spinned. while I was pulling to sideways in 1st and second.
Oh well all in all I was pleased with results, knowing with right tire pressure / launch / track bite / slicks... I would manage a seriously good time for a stock standard motor. And still need the pump etc. Maybe dice throttles later.
So hope you enjoyed. BEAMS POWER
TOYOTA!!
Some pics of almost complete project: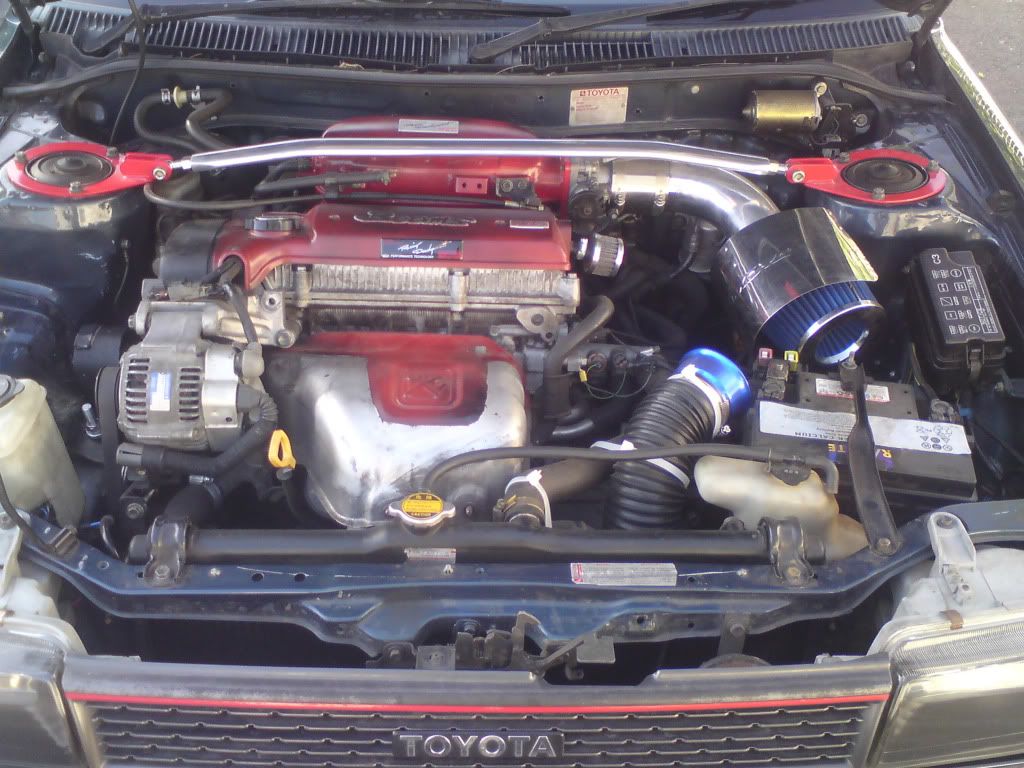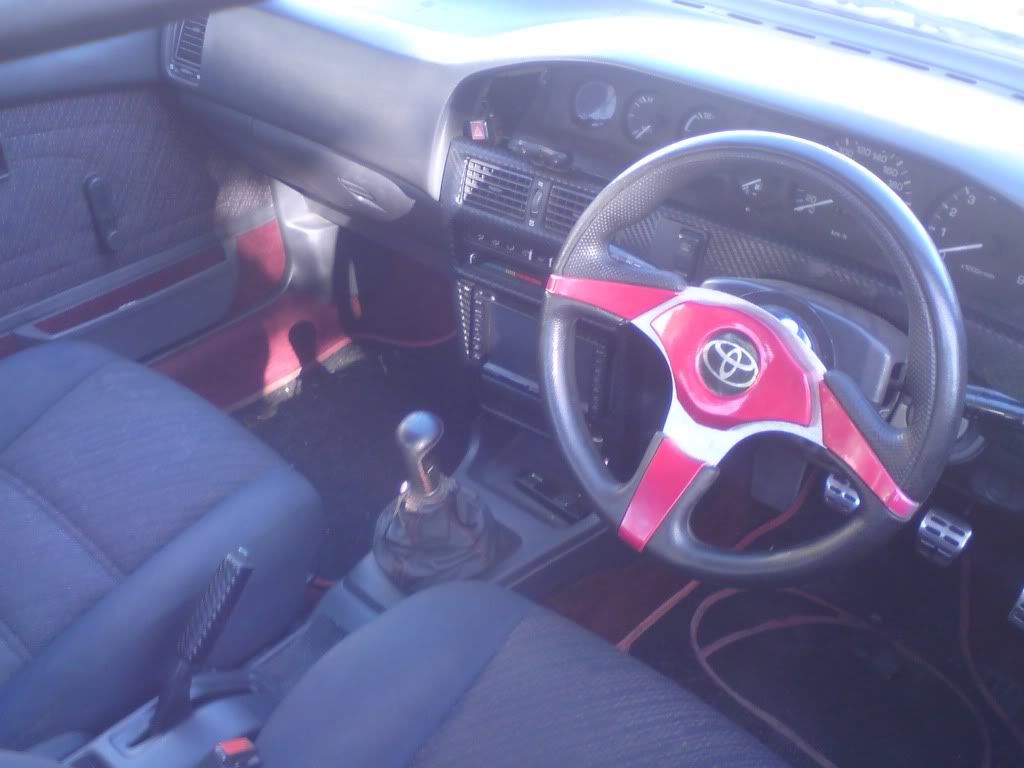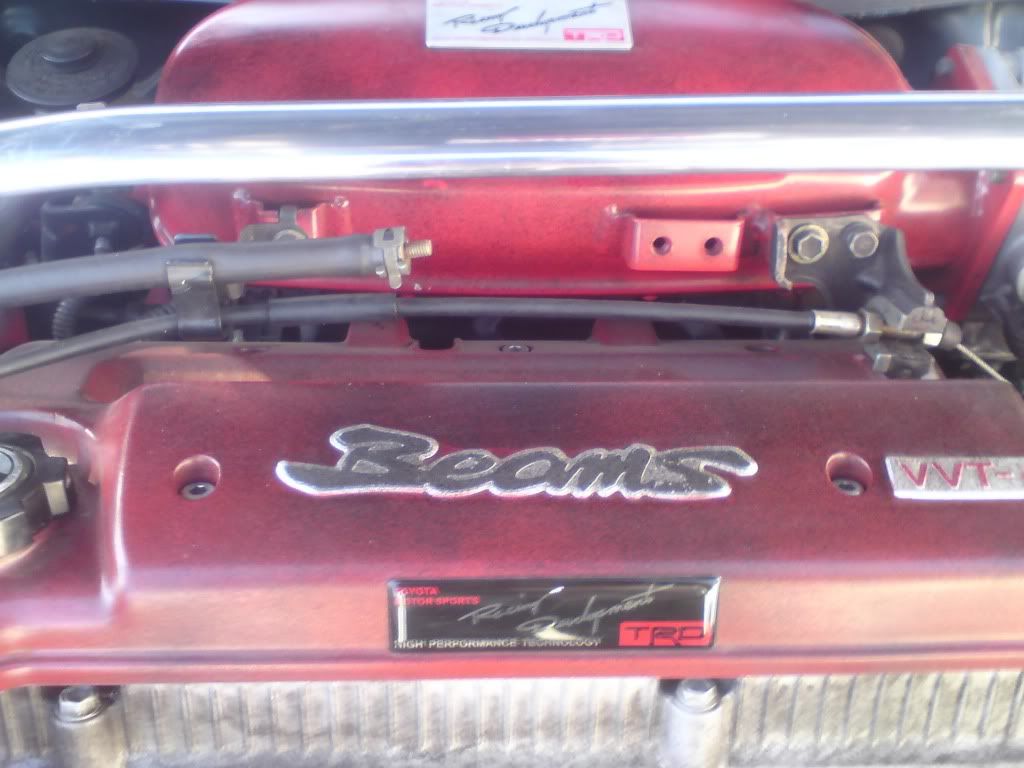 Enjoy
Now probably be a while till next drag, daily drive, so wanna look after my baby.
No ffing up car for other peoples intertainment. To expensive project. Probably drag when pump is up etc.
Regards