Topic: First outing with the 7AGE at Killarney
Saturday was my first time on Killarney and also my first time doing a measured 400m.
Had 2 runs against a AE92 Quest with ST 20v and Dictator
My first run I cocked up the launch, LOADS of wheelspin in 1st and 2nd.The Quest pulled bout a car lenth but I reeled him and passed at bout 300m. My time 15.7 his 16.1
Our next run I nursed 1st gear and kept with him in first, pulled him from 2nd and finished bout 3 car lenghs in front of him.
My time that run was 15.4, dont know his
Was great fun tho.
Check the 15.4 sec video: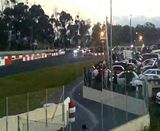 Last edited by Ewie (2012-10-15 11:52:46)
1986 Corolla GLi Twincam16 Sprinter
7AGE 16v (with spice)
132kw 200nm
14.6 - 400m Killarney S2S 01/08/2014(road tyres)
183km/h - 800m Saldanha 1/12/2012 (road tyres)
ewird.muller@gmail.com
Two wrongs doesn't make a right... but three lefts does...