Topic: AIR MASS SENSOR CHECK...PS IMPORTANT
hi guys just thought this may help u....its schematics of our engine in a
..my favourite,...
anyway air mass sensor problems is very common with 2zz its like an o2 sensor but regulates air flow and from wat i noticed the car becomes very sluggish and in consistant so if u find no symtoms of 02 sensor problems and still find inconsistancyin ur runs and one day the car feels to be flying and the next day feels dead simply just do this:
remove the air mass sensor like so but befor doing this
disconnect - terminal
then once u have it in ur hand its delicate so dont drop it k...
get ur multi meter out if u dont have one jeremy from 9000rpm selling a top one for r65 anyway follow on: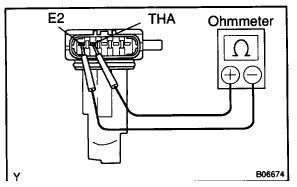 measure the resitance between THA and E2
ur results table:

remember follow the temperature readings its important otherwise u may or may not replace ur sensor for nothing.
if the resistance not specified replace the sensor:o:o
then INSPECT MAS METRE OPERATION
put neg battery terminal back on.
1. REMEBER we disconnected the metre connector put it back on.
2. turn ignition switch on
3. turn the multimetre to VOLTAGE connect the postive prob(+) to VG terminal and
negetive terminal to EG2.
4. blow air into the mass meter and see if the voltage fluctuates,if the operation is
not within specs replace the very freaken expensive sensor.
5. turn the ignition swith to lock
6. disconnect it the meter and turn it side ways and look inside the metre ul notic a
stem,dark brown in color and thin almost like a thin bulb take a cotton bud and
slowly and gently clean off the dirt and using no chemicals please..and repeat
steps if both checks faild.
enjoy
DO WAT U HAVE TO ...TO BE AHEAD OF UR GAME
HEAD OF TOPSECRET DEVELOPMENTS!

inquire on the vtec controllers landing!!